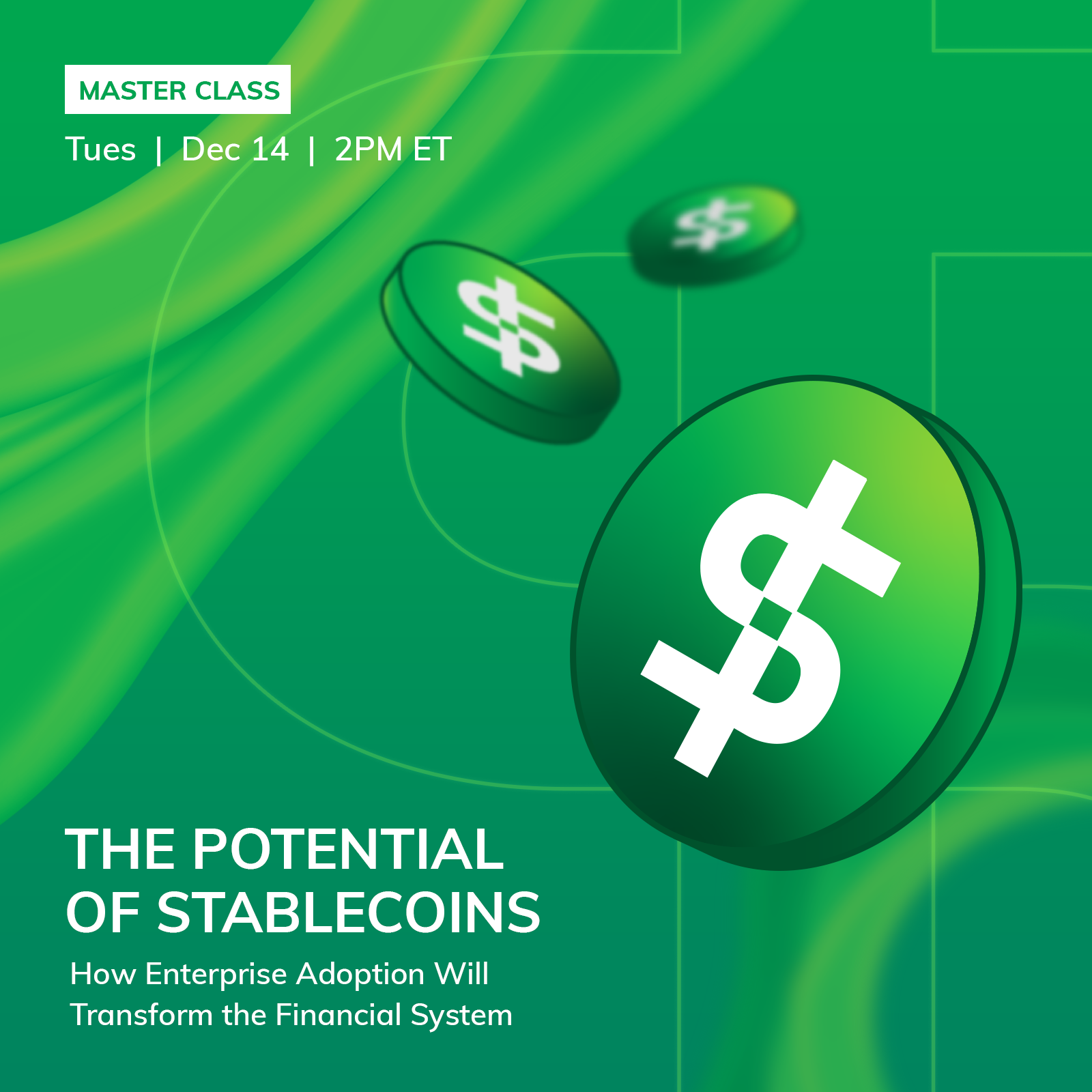 PAXOS MASTER CLASS
The Potential of Stablecoins:
How Enterprise Adoption Will Transform the Financial System
Date: Tuesday, December 14, 2021
Time: 2 PM ET / 11AM PT
We're at a key turning point in building an open, digital financial system - and stablecoins are a core component of the path forward. In 2021, the total market cap of stablecoins surpassed $100 billion, five times more than its size a year ago. Major companies such as Mastercard and Facebook launched stablecoin solutions for payments and international money movement. Many central banks have laid out plans for central bank digital currencies (CBDCs). Meanwhile, regulators are taking note.
How will stablecoins impact the future financial system? How could regulation impact enterprise stablecoin development? Join our free Master Class, where we'll cover:
Major milestones in stablecoin history
The impact of stablecoins on financial access, payments, and global money movement
Case studies of major companies entering stablecoins
Pending regulation and the future regulatory outlook for stablecoins

About Us
Paxos is a regulated blockchain infrastructure company building transparent and transformative financial solutions. We power today's financial leaders to build a more open, trusted economy - including PayPal, Novi, Bank of America, and Interactive Brokers.
"Paxos is leading the digital trust space and we are excited to work with them in developing our native stablecoin."
Interested in launching your own branded digital dollar?
Our white-labeled Stablecoin as a Service offering lets you create your own regulated stablecoin quickly and securely. We also offer funding and payments solutions to power a stablecoin offering for your users.