In conversation with Robinhood and Paxos:
Why traditional financial infrastructure is broken and how we can fix it
Join a thoughtful discussion between Robinhood CEO Vlad Tenev and Paxos CEO Charles Cascarilla on improving securities markets and facilitating the mainstream adoption of crypto.
On May 4th, 2 PM ET, Robinhood CEO Vlad Tenev joins Paxos CEO Charles Cascarilla to discuss the inadequacy of the existing settlement system for stock trades, what needs to change to prevent the next Gamestop saga, and how new technology, like blockchain, can help.
As two companies paving the way for mainstream crypto adoption, Vlad and Charles will also explore the potential for the growing crypto market. It's a conversation you won't want to miss. Sign up now!
Date: Tuesday, May 4th
Time: 2:00 PM ET / 11:00 AM PT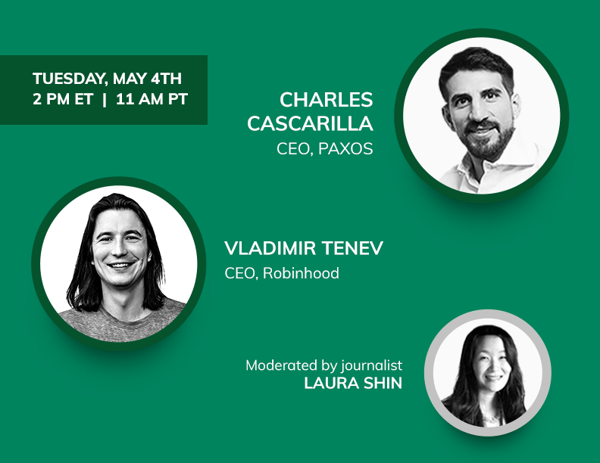 About Robinhood
Robinhood is on a mission to democratize finance for all. It's a financial services company with the belief that the financial system should be built to work for everyone. Robinhood creates products that let you start investing at your own pace, on your own terms. The Robinhood app launched in 2015 and has disrupted the fintech space by offering commission-free trading of stocks, ETFs and cryptocurrencies. With trade execution quality and features that allow for a more human way to learn about finance, the app now has more than 13 million users.
About Paxos
Paxos is the first regulated blockchain infrastructure company, using technology to tokenize, custody, trade and settle assets. Its products are the foundation for a new, open financial system that can operate faster and more efficiently. Paxos Settlement Solutions offers blockchain-based settlement for securities and Paxos Crypto Brokerage enables enterprises to integrate cryptocurrency capabilities into their own applications. Current Paxos clients include global firms PayPal, Credit Suisse, Societe Generale, and Revolut.