Paxos Master Class: Integrating & Launching a Crypto Product Offering
Date: Thursday, July 22
Time: 2 PM ET / 11AM PT
Crypto is going mainstream and smart companies are taking action. As firms like Robinhood and Venmo launch cryptocurrency offerings, more businesses are incorporating crypto into their 2021 business strategy and product roadmap.
As one of the earliest players to enter the space and power crypto infrastructure for clients like PayPal, Venmo and Revolut, Paxos shares their learnings on what makes a crypto launch successful. From product integration through go-to-market strategy, this Master Class will help you understand the considerations, decisions, and best practices for launching a crypto product offering.
The Class will cover:
The current state of crypto adoption among mainstream financial firms


What it takes to power crypto "behind the scenes," including custody, exchange, and licensing


A go-to-market playbook for how to launch crypto features successfully


Case studies and best practices from companies who've added crypto features to their product offering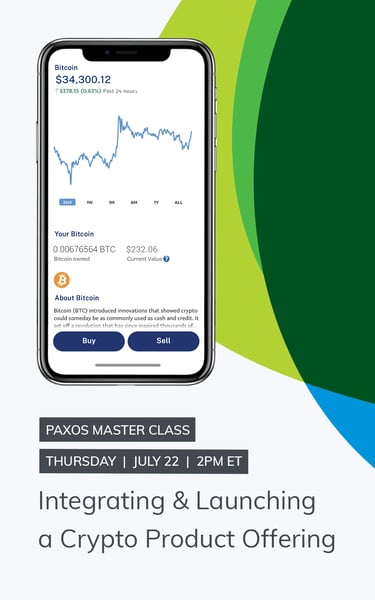 About Us
At Paxos, we are re-building the infrastructure of finance. We want to make it possible to move any assets anywhere, instantly – and therefore democratize access to a new, global, frictionless economy.
We take a two-pronged approach of establishing regulatory designations that give us access to the current financial infrastructure and developing innovative products. This allows us to operate as a gateway between traditional finance and the digital future.
"The Paxos platform offers the security and liquidity we need to offer our users the best crypto experience."
Interested in adding crypto for your users?
We help enterprises easily integrate cryptocurrency buying, selling, holding and sending capabilities into their own applications. We'll manage the underlying regulatory and technological complexity of the cryptocurrency markets through our turnkey, API-based solution.